AUTHOR: Beth TITLE: Hello. I'm Johnny Cash. DATE: 2/17/2005 11:50:00 PM ----- BODY: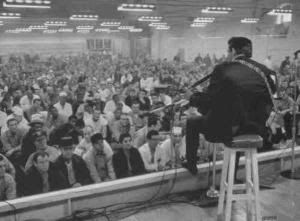 For some reason, all I can stand to listen to right now is Johnny Cash's Live at Folsom Prison. Here are some links if you're not familiar with it: Pictures and official info Review by Alex Steininger:
On a sunny, cool day on January 13, 1968, Johnny Cash entered Folsom Prison, the notoriously tough California Penitentiary, and performed in front of 2000 inmates. And, their well armed guards, of course. But, the hardened, ballsy approach taken by Johnny Cash just doesn't show in his actions, it shows in the music, too. Sweet, soulful, and honest, its bullet-biting country madness seeps through every chord and word sung...
BBC Radio's "Critical List"
At Folsom Prison was released to widespread acclaim, giving Cash his biggest hit to date. Its outlaw appeal enabled his first major crossover into the mainstream. Coming just as many American rock acts, in particular The Byrds, were rediscovering and reinventing country music, it won him a new audience as well as adding to the iconic status he still enjoys today...
Review from a site devoted to metal (It's a review of Live at San Quentin which is essentially the same set):
You may be wondering what the fuck am I reviewing this album for. Global Domination is a METAL site, not a country site....Johnny Cash was, and even in death still is, THE Man. The only man I can think of that can sing about his faith in God, his love for his wife June, and sing about doing cocaine, and shootin' up his woman with a submachine and have you believe it. There ain't nobody else like him, and there will never be anyone else like him...Johnny Cash sang to the Christians, the druggies, the killers, the soldier, the outlaw, the misunderstood, and the everyman. He made a huge impact on the music scene in his 50+ years, an impact as big as the man himself. I highly recommend this album to EVERYONE who enjoys music...
And now, some lyrics. I've thought about including this song in an embryonic little post I have in my head called "Songs of My Life", but it's simply a transparent variation on a theme that's been done to death in the blogosphere and so I've refrained from writing it. But anyway. The lyrics. Do me a favor and listen to this song if you can. And think about it. Even if the music doesn't appeal to you, think about this song for a while.
I hear the train a comin'; it's rollin' 'round the bend, And I ain't seen the sunshine since I don't know when. I'm stuck at Folsom Prison and time keeps draggin' on. But that train keeps rollin' on down to San Antone. When I was just a baby, my mama told me, "Son, Always be a good boy; don't ever play with guns." But I shot a man in Reno, just to watch him die. When I hear that whistle blowin' I hang my head and cry. I bet there's rich folk eatin' in a fancy dining car. They're prob'ly drinkin' coffee and smokin' big cigars, But I know I had it comin', I know I can't be free, But those people keep a movin', and that's what tortures me. Well, if they freed me from this prison, if that railroad train was mine, I bet I'd move on over a little farther down the line, Far from Folsom Prison, that's where I want to stay, And I'd let that lonesome whistle blow my blues away.
For whatever reason, these last few days have just called for that great baritone voice in my head, rumbling out those bittersweet thoughts. --------