AUTHOR: Beth TITLE: I will comeback, I will comeback for you DATE: 3/02/2005 09:56:00 AM ----- BODY: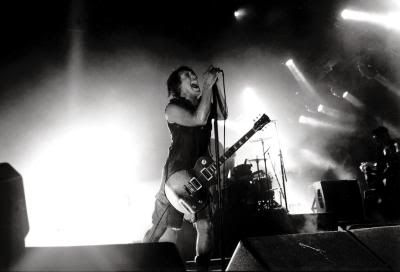 From: Nine Inch Nails Date: Sun, 27 Feb 2005 08:37:09 -0500 Subject: NIN US Spring Tour 2005 To: *******@*****.com Nine Inch Nails are performing EXCLUSIVE shows in select cities across the United States in April and May of 2005 in support of the new release "With Teeth". Tickets will go on-sale to the public until March 4th. 5/9: Toronto, ONT (Koolhaus) 5/10: Toronto, ONT (Koolhaus) 5/12: Boston, MA (Orpheum Theatre) 5/13: Boston, MA (Orpheum Theatre) 5/15: NY, NY (Hammerstein Ballroom) 5/16: NY, NY (Hammerstein Ballroom) 5/18: Philly, PA (Electric Factory) 5/19: Philly, PA (Electric Factory) 5/21: Atlanta, GA (Tabernacle) 5/22: Atlanta, GA (Tabernacle) 4:00pm Central Time Zone On-Sale 5/6: Chicago, IL (Congress Theatre) 5/7: Chicago, IL (Congress Theatre) 5/24: Houston, TX (Verizon Wireless Theatre) 5/25: Austin, TX (Stubbs Bar-B-Q) 4:00pm: Mountain Time Zone On-Sale 5/3: Denver, CO (Fillmore Theatre) 5/4: Denver, CO (Fillmore Theatre) 5/27: Phoenix, AZ (Marquee Theatre) 5/28: Phoenix, AZ (Marquee Theatre) 4:00pm: Pacific Time Zone On-Sale 4/27: San Francisco, CA (The Warfield) 4/28: San Francisco, CA (The Warfield) 4/30: Las Vegas, NV (The Joint) 5/30: San Diego, CA (Soma) 5/31: San Diego, CA (Soma)
You don't understand. No, really, you don't. More than ten years ago, the video for "Closer" came into my living room at night and grabbed me by the brain. At that time, I was fourteen, a real goody-two-shoes. I dressed like Mary Poppins: bows, vests and turtlenecks with tiny flowers, barrettes. The hardest thing I'd ever rocked out to before that was the Beatles, and I'd had a brief dalliance with MC Hammer; what I was really "into", though, was classical music and musicals like The Phantom of the Opera. In one memorable exchange around 1992, someone in my algebra class asked me what I listened to. "What do you mean, what do I listen to?" I said. "Like, do you listen to Nirvana?" he said. "No." "Do you listen to Metallica?" "No." "Guns N Roses?" "No." "Pearl Jam?" "No." Finally, seeming genuinely frustrated, he blurted, "Do you live in a CAVE?!?!" But it's not like "Closer" was the first rock video I ever saw, or Nine Inch Nails the first music with the word "fuck" in it to which I was exposed. I had been exposed to any number of bands--including those my classmate listed--through friends. By my eighth-grade year, the year Kurt Cobain committed suicide, Nirvana was ubiquitous and unavoidable. But Nine Inch Nails, specifically the song "Closer," was really the first quote-unquote popular music that made me sit up and say, "Holy shit, what is this?" Imagine you spend your entire life speaking English. Then one day as an adolescent someone you've never seen before walks up to you and begins speaking to you in a language you've never heard before--but that you instantly understand and find you can speak fluently yourself. That's what discovering Nine Inch Nails felt like to me. It's disgustingly cliche for a fan of a rock star to say that they feel as if they "understand" him / her. To develop a kind of sick, stalker-esque relationship in their own heads with them. For me, though, the appeal of Nine Inch Nails is that I feel understood by it instead of the other way around. Times I have felt too weak to articulate things on my own, a song like "Gave Up" has done it for me. Times I have felt or been alone, a song like "Fragile" or "The Great Below" has come to me like a reassuring echo. On May 5, 2000, I went to my first and only Nine Inch Nails show at the Hartford Civic Center in Connecticut. I remember the security guards stood every two feet, arms folded, between the hockey-rink wall and another interior wall of vicious-looking metal barriers, how the groundlings in the floor seats were made to sit down on the floor until an appointed time before the show, and at some signal rushed forward to SLAM! into the four-foot barrier between them and the stage. Security at that show was like nothing I'd ever seen, and for good reason. Nine Inch Nails puts on probably the most intense live show of the last twenty or so years, and venues on their Self Destruction Tour in the mid-90s became more gladiatorial arenas than anything else. Stories abound of the weapons, injuries and assorted sick behaviors that occurred at some of the more legendary shows, including one at the Worcester Centrum in 1995 that friends of mine went to--where Trent became infuriated with the crowd and walked off the stage, only to return before a nearly uncontrolled riot that remained through the rest of the gig. A Perfect Circle opened, and then curtains closed around the stage for what seemed like weeks on end, while roadies and techies clambered and climbed and adjusted and shouted unintelligibly to one another and strange shadows whispered in the gap between curtain and ground and bright lights occasionally streaked out from behind the curtain and the anticipation built and built and built and built... And then, oh my God, they played "Somewhat Damaged", which is an intense, slow burn of a song, but they did it behind the curtain, with little teasing glimpses of the band from a spotlight, and I felt like my heart was going to explode... And then before I could grasp what was going on the curtain peeled back and there was Trent, foot up on the speaker, stranglehold on the microphone, "HEY GOD..." And seriously? I died. I died right then and there. I completely lost all sense of time, direction, space, control. My higher brain functions shut down. I jumped up in the air and I didn't feel like I touched the ground again until the show was long over. Fast forward a few months later. I'm in Oxford, bandage on my hand, voices shrieking in my head, just trying, fighting, pushing myself so hard just to walk in a straight line down the sidewalk, just to sit quietly without reaching for something dangerous, forcing myself just to behave halfway normally, dragging myself along and reminding myself why I needed to get back home, thinking of my boyfriend, my parents, often calling them at odd hours...quite literally losing my mind. Nine Inch Nails' The Fragile plugged into my ears as if it were oxygen.
She shines In a world full of ugliness She matters When everything is meaningless Fragile She doesn't see her beauty She tries to get away Sometimes It's just that nothing seems worth saving I can't watch her slip away I won't let you fall apart She reads the minds of all the people as they pass her by Hoping someone can see If I could fix myself i'd- But it's too late for me I won't let you fall apart We'll find the perfect place to go where we can run and hide I'll build a wall and we can keep them on the other side But they keep waiting And picking It's something I have to do I was there, too Before everything else I was like you
I WON'T LET YOU FALL APART...I wasn't delusional enough to believe Trent was singing to me, but when I look back and I think of the serendipity of the fact that a voice was literally in my ear at that dangerous time, along with all the others, the ones telling me pick up that knife do it do it DO IT telling me over and over, I WON'T LET YOU FALL APART...I get goosebumps. I get tears in my eyes. It's so cliche, so trite, to say your favorite band saved your life. So I won't say it. --------